How to plan your vacation using a mind-map
Making a vacation plan can be a time-consuming and challenging task. However, by using a mind map, you can easily keep track of all the details and have a more enjoyable planning experience.
Who doesn't love the feeling of having time off from work to relax and take a vacation? We all know how important it is to take some time to ourselves to recharge and rejuvenate, but sometimes planning and organizing a vacation can be just as stressful as our everyday lives.
That's why, in this article, I'll show you how to use a mind map to plan and organize your dream vacation easily, so you can spend less time worrying and more time enjoying your time off!
Why use a mind map to plan your vacation?
A mind map is a great way to plan your vacation because it allows you to see all of the different aspects of your trip visually. It can help you brainstorm ideas, plan activities, and make sure that you don't forget anything.
A mind map is also a great tool for reducing anxiety when packing for a trip. By mapping out what you need to bring, you can avoid forgetting important items. And when you're in the moment and unsure of what cafe or attraction to visit, the map can be a helpful lookup.
Mapping out the history, local food, and customs is a great way to immerse yourself in the culture of the people living at your destination. By doing this, you will get a far better understanding of the area you are visiting.
Plus, mind-maps are just plain fun to make, and it's a great bonding exercise for your family to collaborate on planning a vacation!
Making your travel mind map
The first step in creating a mind map is to come up with some initial categories. I often start out with these categories:
Destinations - Information about each destination you visit.
Travel - Details on transportation to reach my destinations.
Packing list - What I must remember to bring.
History - I'm a history nerd, so I like to research a bit about the local history before traveling to a destination.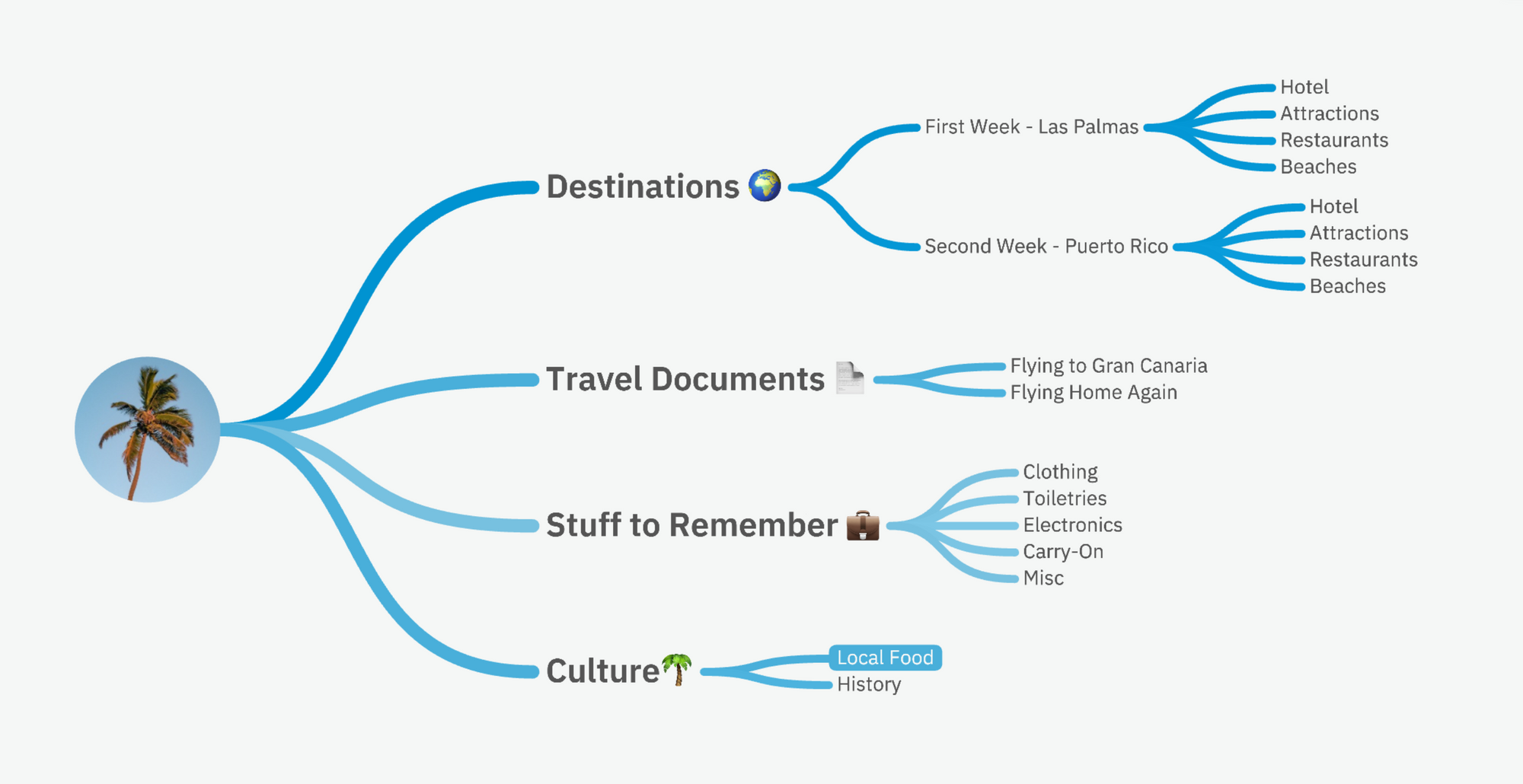 What categories you use will depend on what aspects of planning a trip are important to you. For example, if you're interested in local food, you might make a seperate "Food" category. Once you have your initial categories, you can add new branches and rearrange them as needed.
Don't worry about getting the right structure for your mind map. The magical thing about mind maps is that a final structure will naturally emerge as you work on it.
Destination
I prefer to create a separate branch for every destination I visit and then create sub-topics related to that destination on each branch. So, if I stay one week in Las Palmas and then one week in Puerto Rico, I would create one branch for each destination.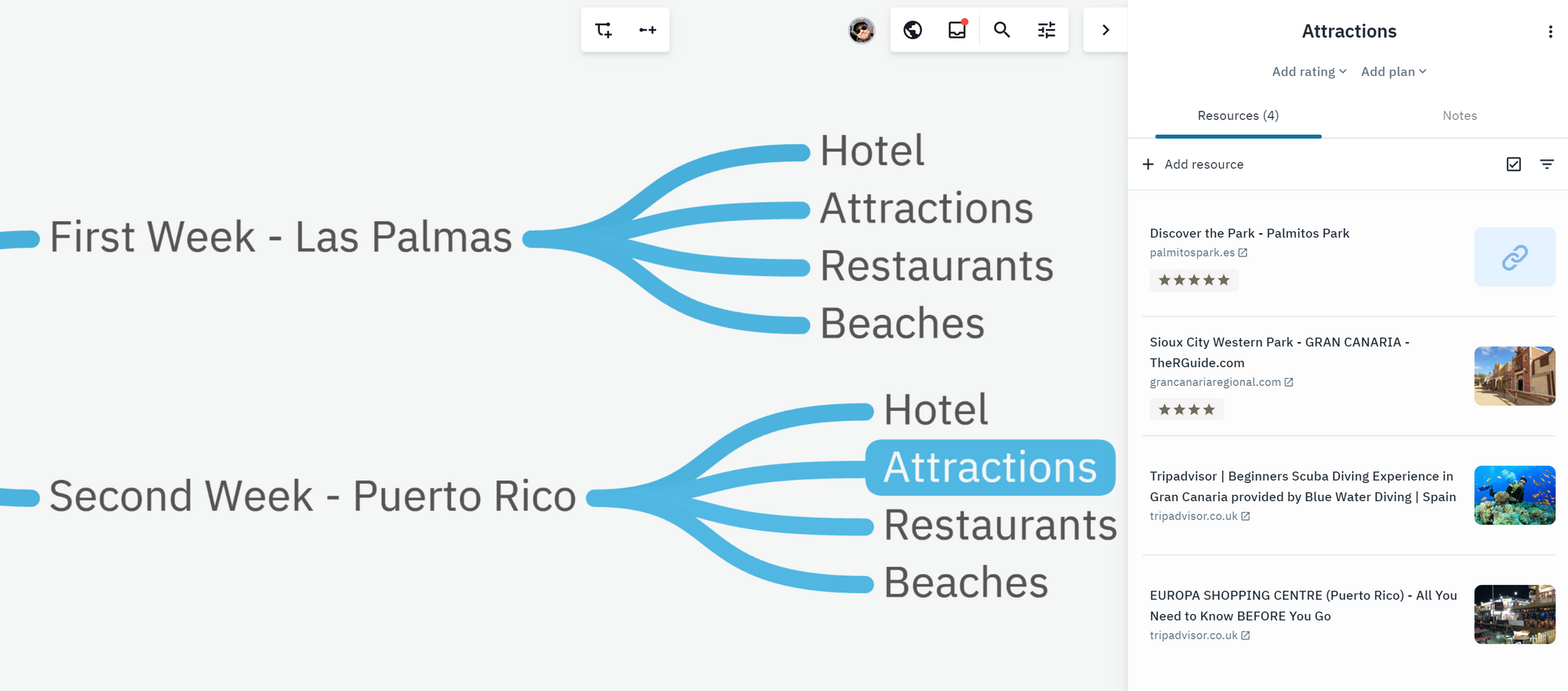 What is great about this strategy is that when I click on the attractions topic listed under Puerto Rico, I know that I will find the attractions I want to visit when staying in Puerto Rico. Likewise for Las Palmas.
The topics I generally use per destination are:
Hotel - Everything related to the hotel we are staying at.
Attractions - Things we want to experience near the destination.
Restaurants - Places we want to eat near the destination.
Beaches - The beaches we want to visit. For a non-beach-type holiday, this could be other location types, for example, city districts when visiting Tokyo.
Generally, I try to limit this list strictly to topics that require at least some research. Having a list of lovely places to eat is naturally useful on a holiday, while a list of supermarkets might not be necessary as you tend to find one on every street corner.
Travel
I tend to have two distinct categories in the travel branch: travel documents and the travel plan itself.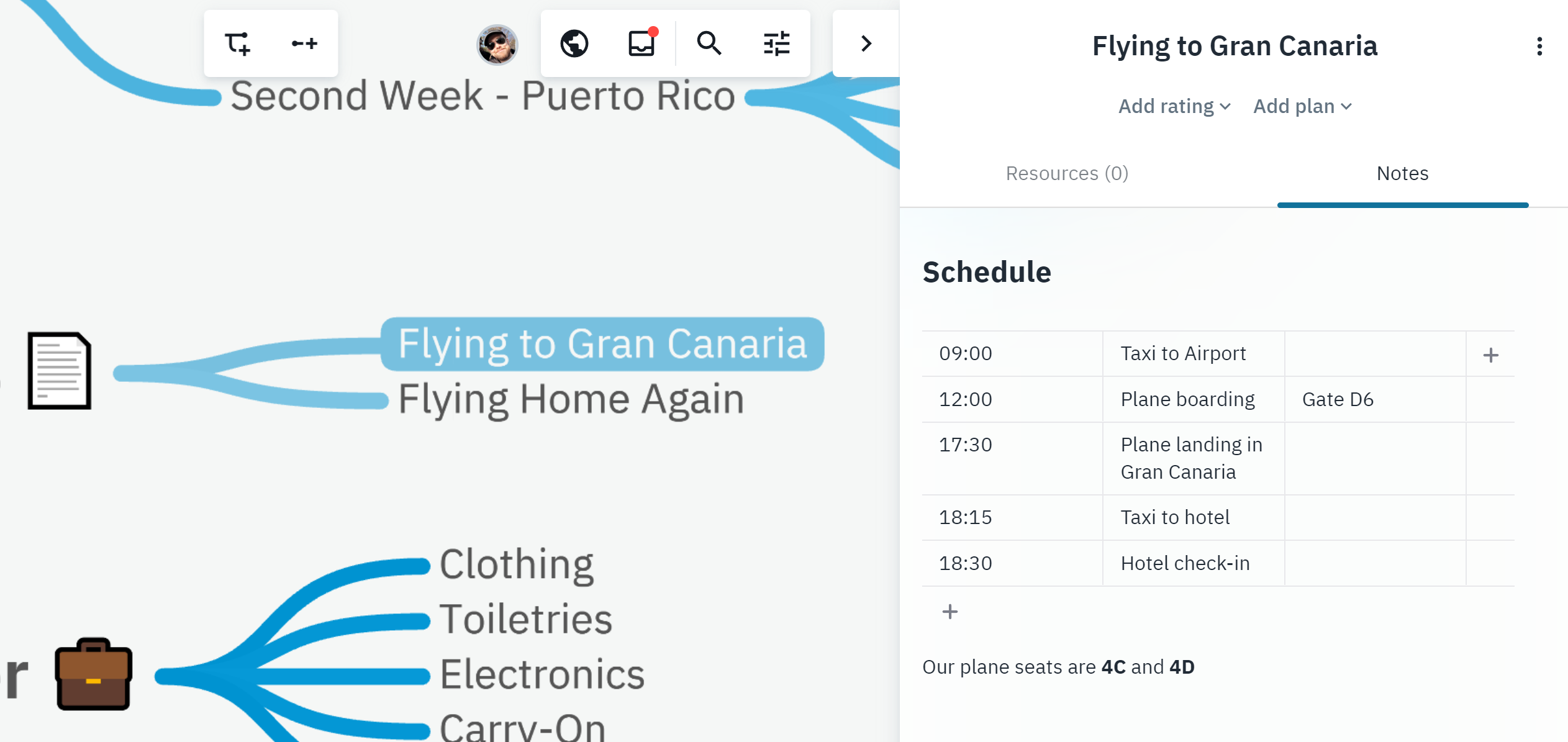 It is handy to have a place to gather all of your resources for your trip. Having an entirely written plan makes the travel days much more relaxing, especially if you share it with others to get everyone on the same page.
Packing list
When packing for a holiday, it is important to consider the climate of your destination, the activities you will be doing, and how long you will be gone.
For example, if you are going to a warm destination, you will need to pack lighter clothing that can be easily layered. If you are going to be doing a lot of hiking or other outdoor activities, you will need to pack sturdy shoes and clothing that can stand up to being dirty.
And finally, if you are going on an extended holiday, you will need to pack enough clothing and supplies to last you the entire trip.
A packing list branch, often dubbed "Stuff to Remember," can be useful because it helps you visualize what you need to bring and where you will be packing it.
And if you are collaborating with your family, this helps you prioritize what to bring!
Here's one way to structure this branch:

Clothing - For all the clothes you are bringing with you, I typically try to keep this to a single topic, but if you are packing a lot, it can be quite helpful to split it into sub-topics.
Toiletries - All your medicines, sunscreen, and other toiletries. There are items in this category that would be terrible to forget for many of us, such as allergy pills or contact lenses. Having it mapped out makes me less anxious when traveling.
Electronics - Phone, charger, laptop, camera, and headphones.
Carry-On - Everything you want to bring on the plane and is required for the trip.
Misc - For everything that does not fit in the main categories.
Culture
No matter where you go, there is always an opportunity to learn about a new culture. By doing some research before your trip, you can learn about the customs and traditions of the people in the area. This will help you understand their way of life and act respectfully.

Some great topics to put into this branch include language, food, history, and customs.
Template
For more inspiration, have a look at the examples below!
Small template
Here's the template I used in the examples above. You're welcome to copy it and modify it for your own use.
(Click on the full screen button for a larger view. You can also duplicate the map from that view.)
Large template
Here is a template that may be useful to you in order to get ideas for topics to include in your own map.